Recently George "Symbol" Dimas dropped by the site to sign our guest book and here is what he had to say,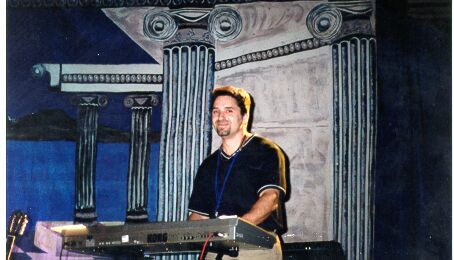 " Your new site is very impressive. You are very generous! I have some breaking news that will be made officially available on your site before anywhere else. I'll let you know about that a bit later in this message… First, here's a little update…Arkadia has been busier than ever in 2001, playing gigs in Vancouver, Calgary, Swift Current and locally in Regina. The word has been getting out there, and it's all good. We have been blessed to have fans and new friends across Canada and in many places in the US, Australia and other parts of the world. Upcoming, we have been invited to play in Toronto for the 2nd straight year…where Arkadia will perform before the Crash Test Dummies on the main stage of the Taste of the Danforth Festival, which features 800,000 people over 3 days!! We also have plans to return to Vancouver, Calgary and Edmonton in the fall. Ironically, we have been trying to hold back the number of performances because we are currently putting our finishing touches on our 2nd CD, which will be available by the end of the summer/very early fall...for that reason, the rest of the summer till Toronto will be quiet except for a few local gigs. The CD has taken a bit longer than we first anticipated, but that is due to the fact that there will be 12 brand spanking new songs that Steph wrote, all original, all Arkadia, no outside writers here!! Believe me, I have heard what we have so far and this CD will be AMAZING! Every track rocks! The CD will coincide with the launch of our new state of the art official website. When the CD is finished, we plan to step up our touring schedule to promote the CD, and to match the buzz about the release that we have sensed from Vancouver to Montreal down to Detroit and New York and beyond. Now, as I promised, here is the breaking news, an "Arkadia the Fan Website" Exclusive…the name of the new CD will be…<>. To Arkadia fans around the world, stay tuned.
---
Old News : click on link below
A note from Nick about the pending trip to the Taste of Danforth in Toronto.
Recently we were visited by George "the symbol" Dimas. Here is what he had to say.
Click here to return to current news.